Right: Emo while belting out sad Jay Chou songs and groping the person next to you
Left: Be groped
Laugh at scene to his right (see top picture)
Play the piano, occasionally asking the person being groped what note to play
Hide face with National Geographic thingamagickky
Play TextTwist
4 guys and a girl and they still can't beat the high score, lol!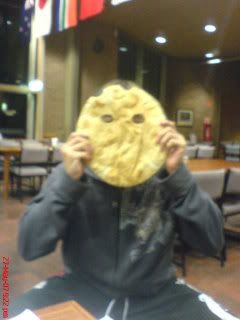 Play with your food. Actually it was Ling's and Hannah's
Tie your hair up like Bam Bam from The Flintstones
Eat Roti Cheese (FIRST TIME HAVING IT IN OZ!)
Then there's the:
Statutory Bill of 'Better View for Clunies Building'
Purpose: To improve and enhance the aesthetic beauty of the Clunnies building comprising of Floor 1, 2, 3.
Amendment: To enact 100 curl-ups per day per male resident (Floor 1, 2). Application as effective of 27th May 2007.
Impetus: On the 27th May 2007 at approximately 7.40 pm, one female resident of Clunnies inadvertently caught sight of one male abysmal stomach muscle offended by the sheer amount of superfluous FAT attached to above mentioned anatomy, she duly proposed this 'better view' bill to ensure henceforth, Clunnies have a 'better view' ---> Namely, 6-packs.
Conditions: Strict system enforced. Punishment for violation severe and absolute.
Council of 3rd floor Clunnies
Then followed by:
The Supreme High Court of 3rd Flr Clunnies
Hot Girls v. 1st Flr Clunnies
Case: The hot girls of Clunnies 3rd flr bring a suit against the 1st flr of Clunnies.
Grounds:
1) Inability to draw accurate representation of human anatomy.
2) Providing instruction 'suck this fat one' that could not be executed as genitalia of adequate size does not exist in order for 'sucking' in Clunnies.
Conclusion:
Ground 1): further study of both female and male anatomy – advised to look for good samples of male other than Clunnies as all specimens there are abysmal.
Ground 2): 'Pump It Up'. Individual advice posted.
Supreme High Court of HOT judges adjourned 29th May
Individual comments stuck on doors of 1st Floor Clunnies occupants: